Amanda Matousek, MSW, LCSW (she/her)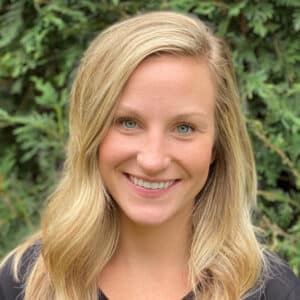 As a psychotherapist, I believe in the importance of the therapeutic relationship. I strive to create a space that feels warm, open, safe, and non-judgmental. I guide clients from a strengths-based perspective which holds that humans are resilient and resourceful. Each person has inner strengths that we can develop upon with new insights and coping skills.
I enjoy working with college students, young adults, and adults in individual, couples, and family therapy. My areas of speciality include depression, anxiety, trauma, relationships, life transitions, self-esteem, identity, stress, and work or school-life balance. Through both personal and professional experiences with therapy, I have honed the ability to understand the growth and change that can come from this process. I am empathetic, direct, honest, and a good listener. Together we will create a space in which you will feel seen and heard, be able to share your story, and learn new, authentic ways of thinking or moving through life.
I draw on a variety of therapeutic approaches to best meet my clients' individual needs. I have extensive training in Acceptance and Commitment Therapy (ACT,) Cognitive Behavioral Therapy (CBT,) Dialectical Behavioral Therapy (DBT,) Exposure and Response Prevention (ERP,) and Radically Open Dialectical Behavioral Therapy (RO-DBT.) Additionally, I am pursuing training in Eye Movement Desensitization and Reprocessing (EMDR) therapy to treat ongoing distress, single event trauma, and complex trauma. I obtained my Bachelor's degree at Southern Illinois University Carbondale and my Master's degree at Loyola University Chicago in social work. My experience prior to joining Wildflower includes counseling in a variety of settings including the residential, partial hospitalization, intensive outpatient, and outpatient levels of care with adults and adolescents. Additionally, I have counseling experience within daycares and schools to support parents and children. I have worked with individuals, families, couples, and groups. My aim is to help my clients create lasting change to live life in a way that feels fulfilling and valuable.
LCSW License Number: 149019050
Type 1 NPI Number: 1861934606
Accepts: BCBS PPO and BlueChoice plans, UnitedHealthcare/Optum PPO, Lyra, self-pay and out of network clients
---
Pronouns
she/her/hers
---
Selected training and affiliation
Crisis and Trauma Resource Institute: Strategies for Resolving the Impact of Post-Traumatic Stress
Dialectical Behavioral Therapy Training
Eye Movement Desensitization and Reprocessing Basic Training
Exposure Response Prevention Training
Illinois Coalition Against Domestic Violence: 40 hour Domestic Violence Advocate Training
Illinois Coalition Against Sexual Assault: 40 hour Sexual Assault Advocate Training
Radically Open Dialectical Behavior Therapy Training
---
Key beliefs
You cannot expect yourself to know something that you do not know. We are all doing the best we can with what we know now and we can continue to learn.
Vulnerability and openness are bravery.
---
More about me
I love finding things that make me laugh: TV, movies, comedy shows, friends. I have really enjoyed my experience in an introductory improv class, where I learned that there are no mistakes in improv, a different kind of mindfulness, and how important it is to be attuned to your partner's words and actions.
I have a goldendoodle named Winston. I trained him to be a certified therapy dog and have appreciated seeing him bring joy to not only myself, but also others.
I have a minor in history and have always been fascinated by people's motives for doing what they do and by lessons that can be gained from their actions. I enjoy a good historical museum!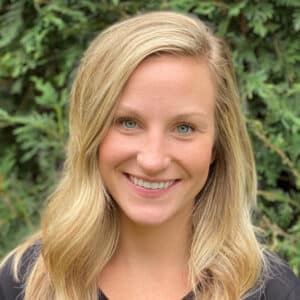 Recent Posts by Amanda Matousek, MSW, LCSW (she/her)
Amanda is a psychotherapist at Wildflower. She earned her Bachelor's degree at Southern Illinois University Carbondale and her Master's degree…
Read More