Yumi Terajima, PsyD (she/her)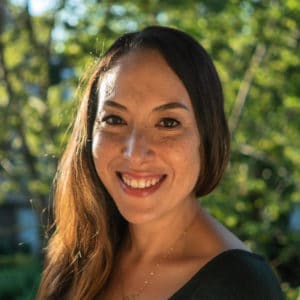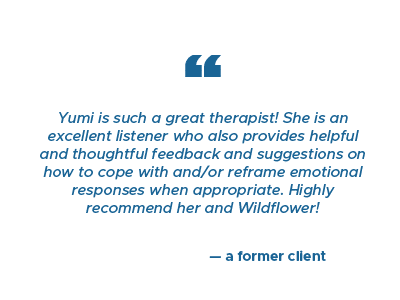 My goal is to provide a warm, safe, non-judgmental space while utilizing humor when appropriate as a means to connect because, let's be real, therapy can be hard and incredibly vulnerable. I believe that trust and collaboration are the foundations of a strong therapist-client relationship and I would not expect to do major work without building that first. My hope is that you are able to learn about yourself, perhaps identify goals you are wanting to work towards or behaviors you are wanting to change, and that you are able to do so with self-compassion and acceptance. We all have our stories, and every story is unique. I look forward to learning about yours and seeing where the story goes.
A little about me. I am a bilingual (Spanish) Licensed Clinical Psychologist at Wildflower Center for Emotional Health. I have a genuine and enthusiastic interest in learning about your personal story and the experiences that have shaped you into who you are today. This stems from my personal experience as a first-generation American biracial woman and I cannot help but view the world through a multisystemic and multicultural lens, a lens I use to connect with people of various backgrounds. I believe we derive our strength and resilience through our personal experiences, however, at times this can be hard to see if life has also been full of suffering. It would be a privilege to work along-side you as you continue working towards building the life you want that is aligned with your values, identifying what thoughts or behaviors are no longer helpful, and supporting you in finding new ways of coping. I work with individuals, couples, and families and my areas of specialty are mood and anxiety disorders, identity development, life transitions, self-harm behaviors, minority group stressors, LGBTQIA+ concerns, and daily life stressors.
I received my Bachelor's degree in Liberal Arts with an emphasis in Psychology from Antioch University-Los Angeles and completed my Doctorate in Clinical Psychology at the California School of Professional Psychology-Sacramento. While completing my Doctoral degree I also received the Specialization/Certificate in LGBT Human Services and Mental Health from the Rockway Institute at Alliant International University. I utilize an integrative approach that draws from various evidence-based modalities such as Dialectical Behavioral Therapy (DBT), Acceptance Commitment Therapy (ACT), Cognitive Behavioral Therapy (CBT), Exposure Response Prevention (ERP), and mindfulness practices while utilizing a culturally informed stance. Before coming to Wildflower I was a Clinical Manager in both the PHP and IOP adult mood and anxiety programs at ERC Insight where I worked with those struggling with more acute needs.
Clinical Psychologist License Number: 071010111
Type 1 NPI Number: 1285877514
Accepts: BCBS PPO and BlueChoice plans, self-pay and out of network clients
---
Pronouns
she/her/hers
---
Selected training and affiliation
Dialectical Behavioral Therapy (DBT) Training
Exposure and Response Prevention (ERP) Training
Acceptance and Commitment Therapy (ACT) Training
Trauma Informed Care Training
---
Key beliefs
Pain is inevitable, but we can work towards decreasing suffering.
Vulnerability is one of the truest forms of strength.
Connection is the essence of being human.
---
More about me
I love music and I love karaoke.
Good coffee and podcasts are my favorite forms of self-care.
Laughing with friends until tears stream down my face are moments I always cherish.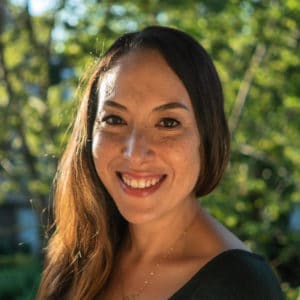 Recent Posts by Yumi Terajima, PsyD (she/her)
Yumi is a bilingual (Spanish) psychotherapist who works with individuals, couples, and families to provide a warm, safe, non-judgmental and…
Read More