Ann Elise Taylor, MA, LSW (she/her)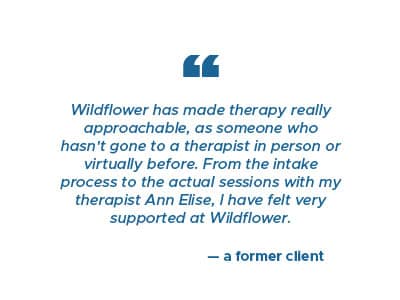 Starting to see a new therapist — or your very first therapist — can be a confusing, daunting process. I get how uncomfortable it feels to be vulnerable with someone you don't know yet, and I'm committed to honoring the bravery it takes to do that. I'm all about approaching my clients from a genuinely accepting, compassionate, and nonjudgmental place. At the same time, I believe that truly caring about my clients means helping them see where change is necessary to live more fulfilling, values-driven lives.
When working with individuals, my therapeutic approach is primarily based in Acceptance and Commitment Therapy (ACT) and Cognitive Behavioral Therapy (CBT). I'm also trained in Eye Movement Desensitization and Reprocessing (EMDR), an effective treatment for trauma and many anxiety disorders. In my work with clients, I place a heavy emphasis on:
Learning how to approach thoughts more effectively
Feeling your feelings
Organizing your behavior around what you value most
Building an arsenal of coping skills you can turn to when times are tough
My work with couples combines elements of Emotion Focused Couples Therapy (EFTC) and Gottman Method Couples Therapy, in which I've been formally trained.
The clinical arenas in which I have the most experience and interest are treatment of depression, anxiety, and panic attacks; maternal mental health; major life transitions; establishment of work-life balance and boundaries; and work related to identifying and following your values. As a white, cisgender, straight woman, I'm committed to understanding how my privilege contributes to systemic oppression, identifying my blind spots, and serving as an ally to BIPOC and LGBTQ+ folks. I'm a firm believer that effective psychotherapy must be rooted in a perspective that prioritizes human rights and social justice.
I earned my Master's degree in Clinical Social Work from the University of Chicago School of Social Service Administration and my Bachelor's degree in Journalism from the University of Missouri. My clinical training was completed at Northwestern Memorial Hospital's Stone Institute of Psychiatry, and prior to that, I worked with human trafficking survivors and refugees who endured torture before coming to the United States. Prior to that, I worked as a journalist for about five years.
LSW License Number: 150105410
Type 1 NPI Number: 1023789799
Accepts: BCBS PPO and BlueChoice plans, self-pay and out of network clients
---
Pronouns
she/her/hers
---
Selected training and affiliation
Gottman Method Couples Therapy Level 1 Training
Postpartum Support International — Maternal Mental Health Training
Contextual Behavioral Practices Program of Study (University of Chicago)
Trauma-informed Care Certification Program (University of Chicago)
Cognitive Behavioral Therapy and Psychodynamic Psychotherapy Training (Northwestern Memorial Hospital)
EMDR Basic Training (EMDRIA approved)
---
Key beliefs
People are usually doing the best they can with the tools they have.
Our brains are beautiful tools that have evolved to help us survive. Most of our thought processes are normal, natural, and adaptive, even when they create distress. I believe learning about the original function of some of those processes can help us accept and come to peace with the thoughts our brains offer us.
The idea that happiness should be our default state of being is harmful. Instead, we should savor happiness when it comes along, and strive to be comfortable and content with the range of emotions we experience.
---
More about me
I get way, way too excited when I see dogs walking down the street (and extra excited if I get to pet them).
I'm obsessed with houseplants and have more than I'd care to admit.
My favorite film genres are sci-fi, fantasy, and horror.
Recent Posts by Ann Elise Taylor, MA, LSW (she/her)
What inspired you to pursue a career as a psychotherapist? When I was in my early 20s, I experienced anxiety,…
Read More