Courtney Collins, MA, LPC (she/her)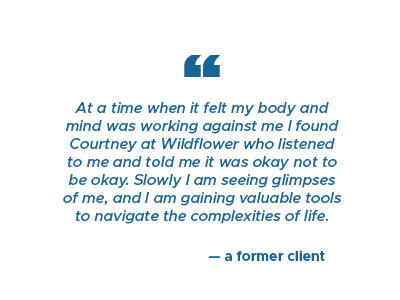 Everything in our lives is connected: body, mind, spirit, and experience. We begin to feel a disconnect when one aspect of our life feels off or out of place. We may not feel at home in our bodies, our emotions may overwhelm us, or we may even begin to feel hopeless and unmotivated when performing day-to-day tasks. It can cause even more stress when you can't seem to place your finger on just what it is that is going wrong. Therapy allows a safe and open space to communicate your wants and needs so that you can work towards a fulfilling life that brings you happiness, whatever that may mean for you as an individual. As your therapist, I strive to create an environment that not only accepts you as you are but also utilizes your strengths to move forward in a positive direction. The healing process is a partnership between you and the therapist, and I would be honored to join you on your journey.
My clinical interests include working with individuals (adults/adolescents) who have a history of behavioral problems, trauma, anxiety, depression, and/or relationship difficulties. I also work with clients who are navigating major life events and transitions such as pregnancy, infertility, pregnancy loss, and postpartum adjustment. In my practice, I draw from Acceptance and Commitment Therapy, Dialectical Behavior Therapy, and solution-focused perspectives. These approaches emphasize the important process of identifying patterns in your life and relationships, looking at your personal history, embracing your emotions, and identifying meaningful parts of the human experience that make life worth living. In addition, I use neuroscience research because I believe understanding the internal processes that occur in your body helps us better understand ourselves and not feel so overwhelmed when big emotions show up. I also encourage the use of nutrition, movement, meditation, and breathwork to aid you on your healing journey. I am sex-positive in my approach and will welcome and affirm all aspects of your identity and experience.
I earned my Master's Degree from Northwestern University in Clinical Mental Health Counseling. I have additional certifications in Mindfulness-Based Cognitive Therapy, Integrative Medicine (Nutrition) for Mental Health Clinicians, and Clinical Trauma Practitioner Training. I have experience working with adults and adolescents who have experienced anxiety, depression, personality disorders, mood disorders, post traumatic stress disorder, grief, and life transitions.
LPC License Number: 178017978
Type 1 NPI Number: 1811643661
Accepts: BCBS PPO and BlueChoice plans, self-pay and out of network clients
---
Pronouns
she/her/hers
---
Selected training and affiliation
Mindfulness-based Cognitive Therapy
Integrative Medicine (Nutrition) Practitioner for Mental Health Clinicians
Certified Clinical Trauma Practitioner
Member of Postpartum Support International
---
Key beliefs
Support systems, no matter how big or small, are powerful.
The key to life is resilience; it's not how hard you get knocked down but whether you get back up.
Food, movement, laughter, and deep breaths have healing powers.
---
More about me
When I'm not in session I can typically be found eating sushi with friends, listening to my music on extra loud during a workout, experimenting with different recipes, playing with my mini dachshund, or traveling anywhere warm near a body of water.
Recent Posts by Courtney Collins, MA, LPC (she/her)
Courtney is a psychotherapist at Wildflower Center for Emotional Health. She earned her Master's Degree from Northwestern University in…
Read More