Jessica Coors, M.Ed., LCPC, PMH-C (she/her)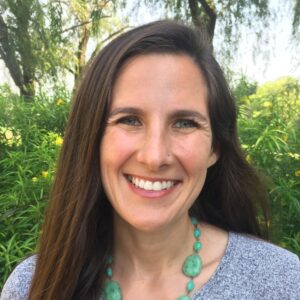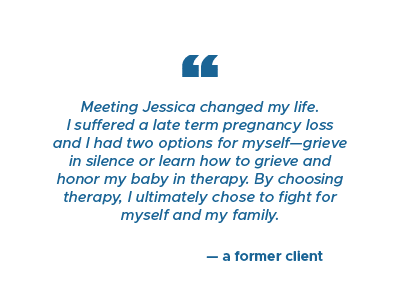 I am a psychotherapist, clinical supervisor and trainer at Wildflower Center for Emotional Health. In 2018, I found a professional home in Wildflower, a place where my lived experiences as a parent, my work as a clinician and teacher, and my personal purpose to provide a nurturing place for people to heal and flourish can meaningfully exist, together.
My intention as a psychotherapist is to cultivate a healing relationship that will allow my clients to feel connected and capable. Foundational to that relationship is emotional safety, warmth and respect. Being able to walk with my clients and bear witness to their lives and resilience is a privilege, one I hold conscientiously. This metaphorical "walk" includes a range of life's moments; laughter and joy can bubble up in the midst of challenges and change. I thoughtfully incorporate evidence-based practices and practical tools that can help my clients feel grounded and empowered as well as therapeutic modalities such as EMDR, mindful self-compassion, Highly Sensitive Person (HSP) attuned care and personalized Wellness Plans (WRAP).
I began my professional journey as an Elementary Education teacher in Arizona before moving to Chicago to pursue my Master's degree in Community Counseling at DePaul University. Currently, I have over a decade of clinical experience and have intentionally chosen to focus my professional development towards EMDR, perinatal mood and anxiety, and social justice advocacy. I have served as an adjunct-faculty member at DePaul University, supporting students towards their degree in Clinical Mental Health Counseling, and previously owned my own business as a private clinical supervisor for emerging clinicians.
The clinical supervisor role is one I find incredibly rewarding, as it unites my psychotherapist and teacher identities. In my time with supervisees, we cultivate their unique professional identities by engaging in reflection and exploring clinical skill development and application. It is especially important to me as a supervisor to model and support the supervisee in attuning to their personal needs; our wellbeing is critical to our role as therapist. We need to walk the talk.
As part of my commitment to the ongoing clinical development of fellow mental health professionals, I also facilitate training at Wildflower. Topics I have presented on include: "Ripples of Change: Pursuing Social Justice In Private Practice," "WRAP for Trauma Stewardship: Caring for the self of the therapist," "WRAP for Postpartum," and "Endings in Clinical Practice."
LCPC License Number: 180008179
Type 1 NPI Number: 1437647724
Accepts: BCBS PPO and BlueChoice plans, UnitedHealthcare/Optum PPO, self-pay and out of network clients
---
Pronouns
she/her/hers
---
Selected training and affiliation
EMDR Basic Training, Certification In Progress
Perinatal Mental Health Advanced Training (PMH-C)
Highly Sensitive Person (HSP) Knowledgeable Therapist
Gottman Method Level 1 and 2 Couples Therapy Training
Certified in Cognitive Behavioral Therapy
Mindfulness Based Stress Reduction (MBSR) Certification
Wellness Recovery Action Plan (WRAP)
---
Presentations and Facilitated Trainings
Ripples of Positive Change: Pursuing Social Justice and Taking a Stand Against Racism and Other Forms of Oppression as a Psychotherapist in Private Practice
Wellness Planning for Trauma Stewardship
Wellness Planning for Postpartum
Psychotherapy for the Highly Sensitive Person
---
Key beliefs
Kindness towards ourselves and others is healing.
People are resilient and capable of more than can be imagined.
The greatest gift we can give our children is growing up with a parent who is becoming who she/he/they can be and is taking care of herself/himself/themselves in the process. This is also the greatest gift we can give ourselves.
---
More about me
My favorite way to unwind is settling in with my family on the couch among stacks of library books while eating our secret popcorn recipe (spoiler: it's mini marshmallows).
Travel and running outdoors are two of my joys, I like to combine them whenever possible.
Cooking is my creative outlet and I find joy in preparing delicious food; I rarely follow a recipe.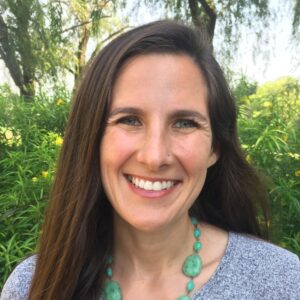 Recent Posts by Jessica Coors, M.Ed., LCPC, PMH-C (she/her)
Jessica is a psychotherapist and clinical supervisor at Wildflower. She earned her Master's degree at DePaul University in Community Counseling….
Read More