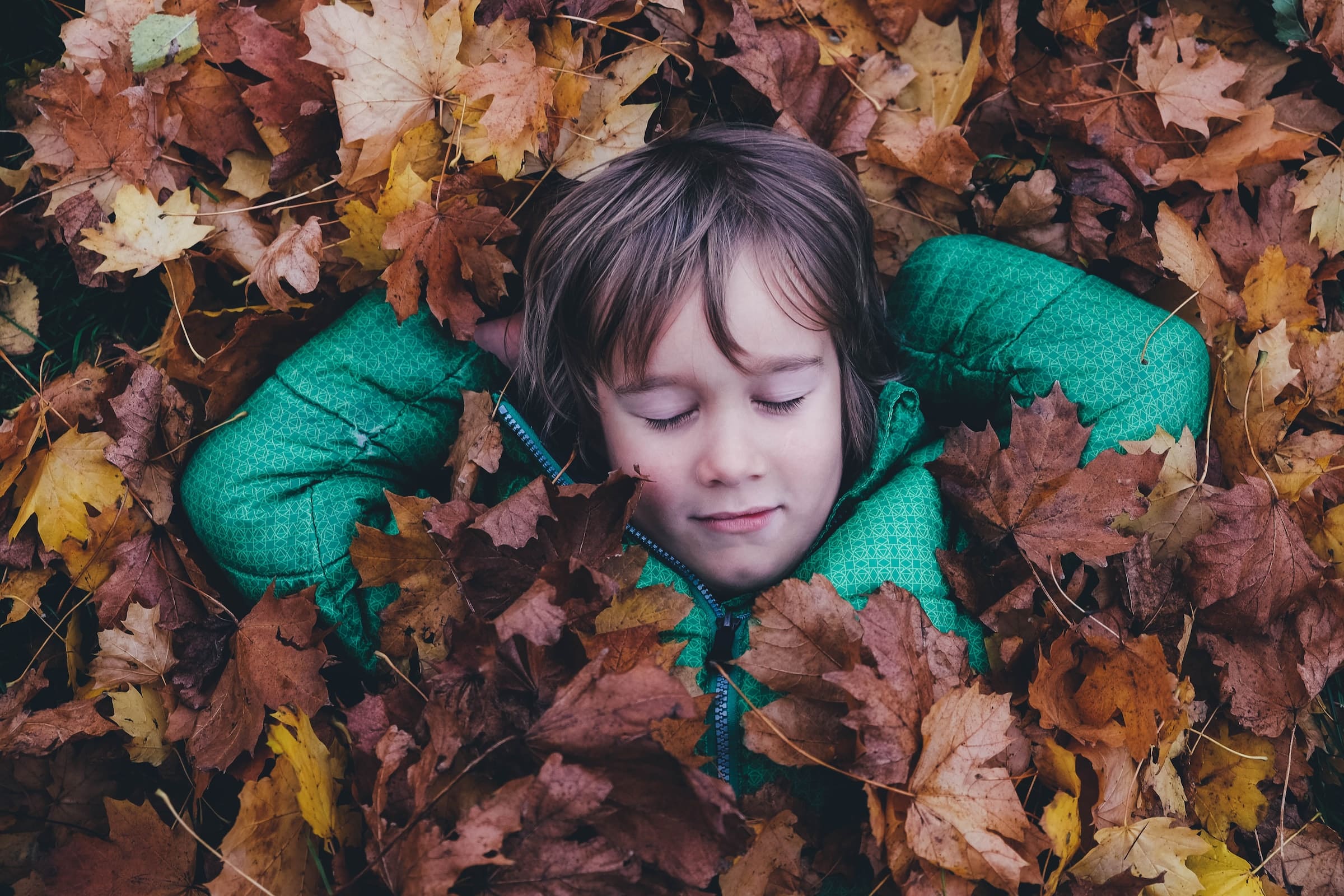 Source: Photo by Annie Spratt on Unsplash
Have you ever felt so overcome with emotions that it's difficult to control your response to others? Perhaps you feel fine one moment and the next you are slamming doors, sending an unfiltered text message, or yelling at your partner. You may also feel your heart pounding and find that it's difficult to slow down and breathe. You may be experiencing what is known as emotional flooding, a psychological concept that describes when someone becomes overwhelmed with emotions.
To understand emotional flooding, we first need to understand our nervous system. Our nervous system regulates the automatic processes in our body. There are three major parts to our nervous system: the sympathetic nervous system, the parasympathetic nervous system, and the enteric nervous system. Now let's briefly break down what each part does!
Our sympathetic nervous system responds to stress by deciding when to engage our 'fight, flight, freeze, or fawn' system. Typically, fight mode presents as irritability and anger, flight mode presents as panic and avoidance, freeze mode presents as immobilization and depression, and fawn presents as people pleasing and avoiding conflict. Our parasympathetic nervous system responds to calm stimuli and helps us enter 'rest and digest' mode. Lastly, our enteric nervous system controls our gastrointestinal processes.
Emotional flooding occurs when our sympathetic nervous system detects a threat. You may have heard people refer to this as 'fight or flight mode.' This state is an involuntary reflex meant to help keep us alive in dangerous situations. When our brain detects danger, our blood begins to pump faster to organs that help us take action, such as our heart. After this, the part of our brain that is responsible for using logic and reflective thinking slows down so we can spring into action mode. Our fight or flight system is a wonderful mechanism when in imminent danger, however our brain has not evolved enough to tell the difference between real versus imagined danger. This is why you sometimes find yourself feeling flooded when having a difficult conversation or giving a presentation at work.
Anyone can experience emotional flooding, however people who have had adverse life experiences or a history of trauma are more likely to experience this psychological phenomenon. This is because when we experience difficult life events or trauma, our amygdala (the part of the brain that detects threats) is more easily triggered by sensory stimuli. This causes our brain to read the sensory stimuli more quickly, which can lead to misinterpretations of labeling something as dangerous when it is really not. Once the brain detects this "danger", you may experience the following symptoms:
Cognitive:
Inability to 'think straight'
Difficulty controlling tone of voice/language used
Flooding of thoughts
Excessive worrying
Physical:
Rapid heart rate
Dilated pupils
Goosebumps
Sweating
Shakiness
Crying
Headache
Feeling emotionally flooded can leave one feeling helpless and may impact our daily functioning and relationships. Below are eight practices and techniques that can help you feel more in control of your body and emotions.
Deep Breathing
Deep breathing is one of the most direct ways to counteract your nervous system going into overdrive. Deep breathing enables your body to return to equilibrium. The key thing to remember when utilizing deep breathing is that your exhale should be longer than your inhale. A great technique is the 4-7-8 method: inhale for 4 seconds, hold for 7 seconds, exhale slowly for 8 seconds.
Eating Well
If we feel ourselves feeling emotionally flooded often, looking at our eating habits is a good start. Alcohol, caffeine, and sugar can cause our body and mind to be more sensitive to the effects of emotional flooding. Incorporating more water, more protein, and more frequent meals will help your body remain balanced. Researchers have also found that eating foods high in healthy fats, such as avocado, nuts, and clarified butter is good for the coating of your nerve cells. This is because your nerve cells are covered by a layer of fat called the Myelin Sheath. The Myelin Sheath allows messages to move quickly and efficiently along the nerve cells.
Positive Self-Talk
Before most episodes of emotional flooding or panic, people tend to experience a series of thoughts that cause them to feel either safe or unsafe. Paying attention to the way that you talk to yourself is important. For example, if every time your heart starts racing you tell yourself, "I am going to have a heart attack and die", you will feel increasingly anxious. Next time a negative thought arises, take back the power by telling yourself, "My heart is racing, and it is uncomfortable, but it is not dangerous. I can improve this feeling by taking deep breaths until the feeling passes."
Exercise
Neuroscientists have found that exercise reduces stress hormones and promotes better functioning in core areas of the brain. All movement is good movement, although scientists have found that yoga, Tai Chi, and Qi-gong are particularly helpful in regulating the nervous system. This is because these practices focus on connecting breath and movement.
Weighted Blankets
If you are looking for a gentle and restful way to balance your nervous system, try a weighted blanket. Adding weight and pressure to certain areas of the body has a calming effect. If you want to take it one step further, you can get a weighted blanket that has the ability to be heated up or contains soothing scents, such as lavender.
Cuddling
Cuddling up to a loved one, whether human or the furry kind, has been shown to induce feelings of calm and oxytocin, also known as the love hormone. Next time you are feeling overwhelmed, reach for your favorite person or pet and just enjoy the moment of stillness!
Shuting off Stimulation
It is easy for us to feel on edge from the excessive stimulation of our modern world filled with news updates, phone notifications, and having the internet at our fingertips. Find a quiet and comfortable space and create a "stimulation deprivation" area for yourself. This could include things such as turning off the lights or wearing an eye mask and listening to headphones that are playing white noise or nature sounds. While doing this just allow yourself to breathe at a comfortable pace and rest your hands on your stomach.
Seek out therapy
A licensed therapist like the ones at Wildflower can help you identify any maladaptive thinking patterns, as well as help you strengthen and develop a set of grounding tools to help you work through emotional flooding. Therapists can also help you assess for habits and patterns that can be contributing to current problems.
Incorporating these techniques into a weekly or daily practice can help your nervous system stay healthy, balanced, and able to process emotions with ease. The more we focus on regulating our nervous system, the more we will feel capable of navigating conflict. A regulated nervous system can allow us to have more enriched relationships and more overall life satisfaction. If tackling this issue seems like an overwhelming task, seek out a therapist who can help you find specific techniques that work best for you. Your therapist may choose to utilize Cognitive Behavioral Therapy to assess and facilitate change in patterns of thinking and core beliefs you have maintained over the years. They may also choose to take a Solutions Focused approach and look at how lifestyle factors and habits have been contributing to nervous system dysregulation. Your therapist can help you create S.M.A.R.T (Specific, Measurable, Attainable, Realistic, Time Based) goals to build healthy and consistent habits.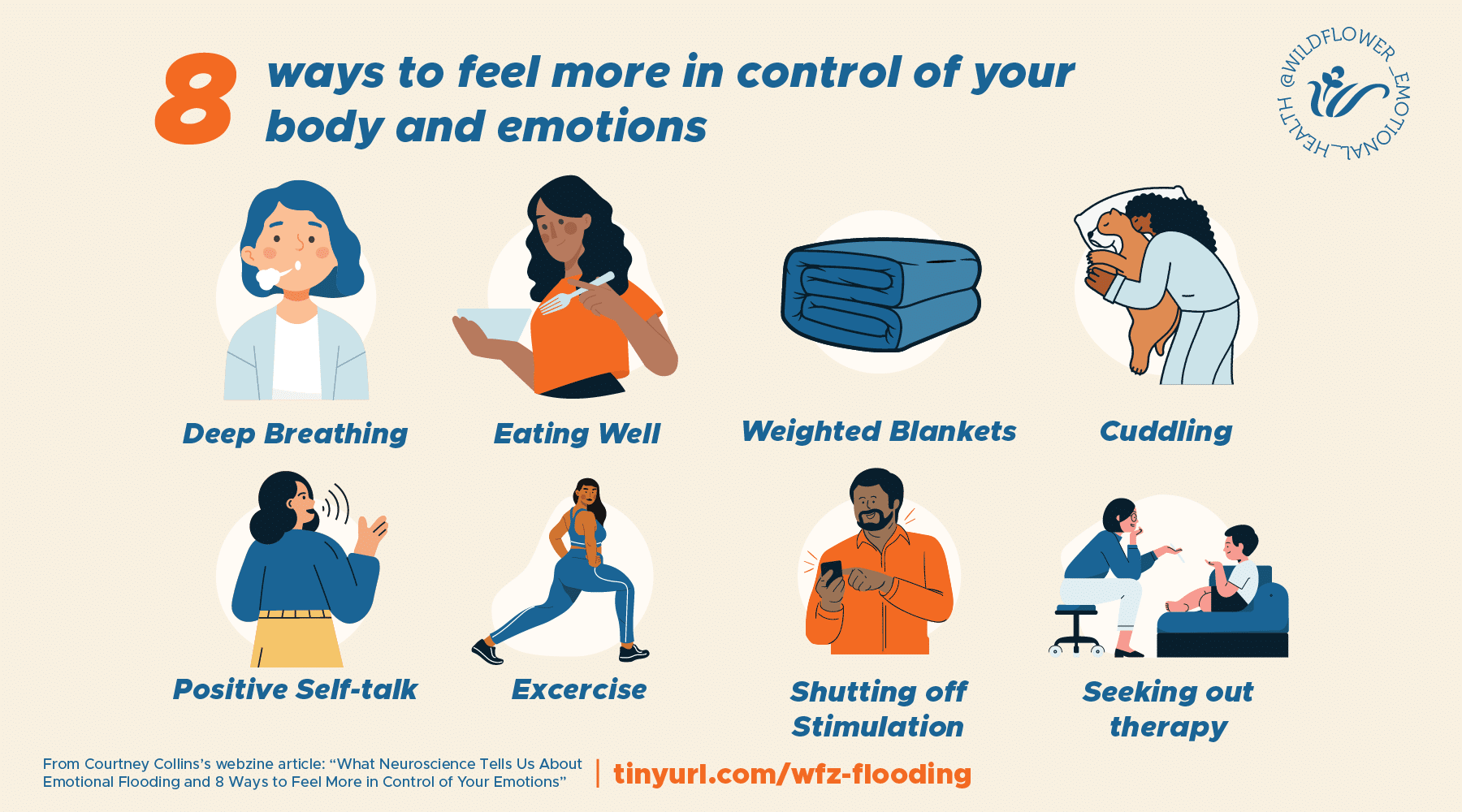 Wildflower Center for Emotional Health is a therapy practice with offices in Chicago (River North) and Oak Park, IL. We offer in-person services at each of our locations as well as online therapy to anyone in Illinois. We specialize in perinatal and reproductive health, trauma and PTSD, anxiety and depression, relationships, sex and intimacy concerns, and more.Learn More