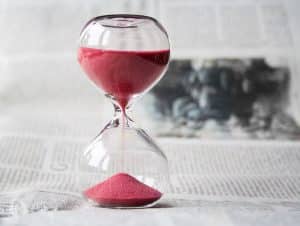 Patience. The word is so simple, yet it can bring up a wide range of emotions. Some people associate patience with sitting cross-legged, deep in meditation; others may be reminded of a teacher or parent telling them to be patient as a child. For me, patience is a complicated word that also represents one of the most important concepts to understand and practice in order to experience personal growth. In my professional life, I see many people struggling when their patience is tested as they make job changes, attempt to start families, enter the dating scene – the list goes on. In my personal life, I used to feel frustrated when I heard the word patience. There are so many times when being patient is the hardest thing to do. Looking back at times when I struggled with patience the most, I now realize how deeply important it was for me to persevere in my efforts to develop patience. I believe it is very important to get comfortable with the uncomfortable idea and practice of patience.
I decided to look up the word patience just to refresh my memory. The definition is: "The capacity to accept or tolerate delay, trouble, or suffering without getting angry or upset." The definition used to bother me. How am I supposed to be able to accept trouble and suffering without getting angry and upset? That felt invalidating. When I now reference patience, I think of a more compassionate definition. My definition is: "The capacity to accept or tolerate delay, trouble, or suffering by validating difficult emotions while also working to stay in the present moment."
I had my own difficulties with patience while I was dating. In my late 20s, I ended a long-term relationship and decided to start dating again. At first, the experience was fun and not stressful. I felt invigorated by the people I was meeting and the experiences I was having. As time went on, dating became increasingly draining. I had to continuously tell myself, "Maybe this next person will be right for me!" or "You never know what could happen next!" As cheerful as I tried to be, I could sense my mounting frustration and resentment. The apps, the endless messaging back and forth, and the actual dates weren't as fun and exciting anymore. I had feelings of disappointment, and constantly felt unfulfilled. When I became really frustrated, I even tried cheating the system to steer my way around being patient. I tried to go back into old relationships to see if I could somehow skip ahead in life. I finally realized this wasn't going to work. I wasn't quite sure what to do; the restlessness, uncertainty, and impatience I felt weren't easy to tolerate. I kept thinking, "If someone could just tell me when I would meet someone, then I would stop worrying about it!" This way of thinking actually ended up being my wake-up call. I asked myself: "Why do I keep living my life like I am waiting for it to start?"
I started to explore what it really meant to be patient. When I thought about being patient, I imagined a quiet waiting period, but being patient does not have to look like that. I decided to re-define patience for myself. My version of being "patient" was to start being more active in the areas of my life outside of dating. I became more involved at work by further exploring a specialty, I was more intentional in how I spent time with family and friends, and I decided to explore my interests more mindfully. I realized that for me patience in my dating life meant focusing and embracing other meaningful areas of my life. I evaluated how I spent my free time and found myself taking up new interests. I planned trips to places I had only previously considered in passing. I started to notice that outdated routines were holding me back. I had fallen into routines with the same set of people, which kept me boxed in. I allowed myself more flexibility and worked on not being so judgmental of myself and others. After spending time with a range of different people, I began noticing a sense of gratitude for people who brought new perspectives into my life. I also noticed that I had been neglecting certain friendships because they seemed too difficult to nurture, but when I actually put in the effort I walked away feeling positively about the experiences. Overall, I was more active in my life, and it felt wonderful.
What I learned from my experience is the only way to truly be patient is to stay engaged and active in your daily life. I noticed that when I was more mindful and focused on what I wanted in life, I was able to have better overall experience. When I embraced my daily life and stayed open-minded, I became less resentful. I still had some bad dates and dealt with other disappointments, but these experiences impacted me less and less. I even noticed that I was quicker to realize and even accept when something wasn't right, because I was more aware. Did I get upset when things didn't go well? Yes, of course, but my bounce back was quicker. Patience means much more to me than sitting around and waiting; patience is about taking an active role in areas of life that allow for growth while simultaneously moving towards acceptance of areas that are not ready to grow yet.