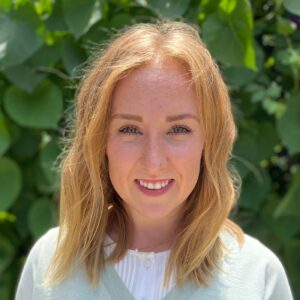 Elizabeth is a psychotherapist and works with individuals and couples who are looking to make meaningful change in their life, whatever that means for them. Elizabeth has clinical experience in working with anxiety, depression, struggles surrounding prenatal and postpartum mental health issues, grief and loss, complex trauma, sexuality and relationship issues. Elizabeth obtained her Bachelor's degree in Psychology from The University of Iowa and received her Masters of Art's degree in Clinical Psychology with a Counseling specialization. Read Elizabeth's full bio here.
What inspired you to pursue a career as a psychotherapist?
I have distinct memories as a child of being someone who my peers came to when they were going through hard times and I found myself enjoying that role. My interest peaked in college in taking various psychology classes and learning about how people can differ so greatly from one another which can alter how they navigate their inner and outer worlds. I knew I wanted to be someone who helped folks navigate through hard times, and find a more values based way of living that felt authentic to them.
As a psychotherapist, what part of your job is most satisfying?
Seeing people "come into their own". I believe everyone's journey is life long in terms of finding peace, acceptance and self-love but watching clients' "light bulb" moments where they realize they are "enough" just the way they are is extremely satisfying.
How would you describe your therapeutic approach?
I'd say it has shifted over the years! In graduate school I came to learn about various mental health disorders, symptoms that may occur as a result, and types of treatments to apply to get the person "back to normal". In my time in the field I still hold space for that foundation while also recognizing that people are not "broken" or flawed for experiencing negative emotions, or psychological distress. Later approaches to therapy such as Acceptance and Commitment Therapy and Dialectical Behavior Therapy more so believe that as humans we experience a wide variety of emotions (some pleasant and others not so pleasant) and that we will still be okay, that is all a part of being a human being. That feels very normalizing! I'd also add in that my therapeutic approach is one of non judgement and empowerment.
Why do you believe that psychotherapy can help?
I believe psychotherapy can help for several reasons. I believe the client is the expert on themselves and their lived experience, and I provide professional and psychoeducational context for why they may be reacting, thinking or behaving in a certain way. Additionally therapists can (and should be) utilizing Evidence-Based Practices into their sessions by providing various skills and tools for the client to use out in the "real world" outside of session. That is often where the change occurs! Finally, I believe psychotherapy can help as I've heard the phrase "until I just said that out loud I wasn't aware I thought of it like that…" more times than I can count. Language and context can be tricky and processing things out loud to a professional, and someone who is removed from your situations, can help you organize and make sense of your thoughts, feelings, sensations in a way that is too convoluted to do in your own head or with friends.
What are some of your specialties and what drew you to them?
I specialized in the treatment of Trauma in my Master's degree program. I've always been interested in how the experience or experiences of trauma impact a person moving forward. Additionally I enjoy working with individuals struggling with mood and anxiety disorders and specifically those that occur during the perinatal phase. Clients going through various life transitions such as newly out of college, thinking of switching jobs, navigating relationships are all areas of interest for me as well.
What is one thing about psychotherapy you wish everyone knew?
We as therapists do not have all the answers and we are humans too! I had it explained to me at one time that both the therapist and the client are on the side of a mountain, navigating their way through rocky terrain. I'm also on my own mountain but I can provide the client a different perspective than their own.
What is your motto or personal mantra?
"I can do hard things!"
What are your favorite self-care activities?
Being outside with my dog, Bandit, doing an inspiring and sweat inducing ride on the Peloton, spending time with my family and partner.