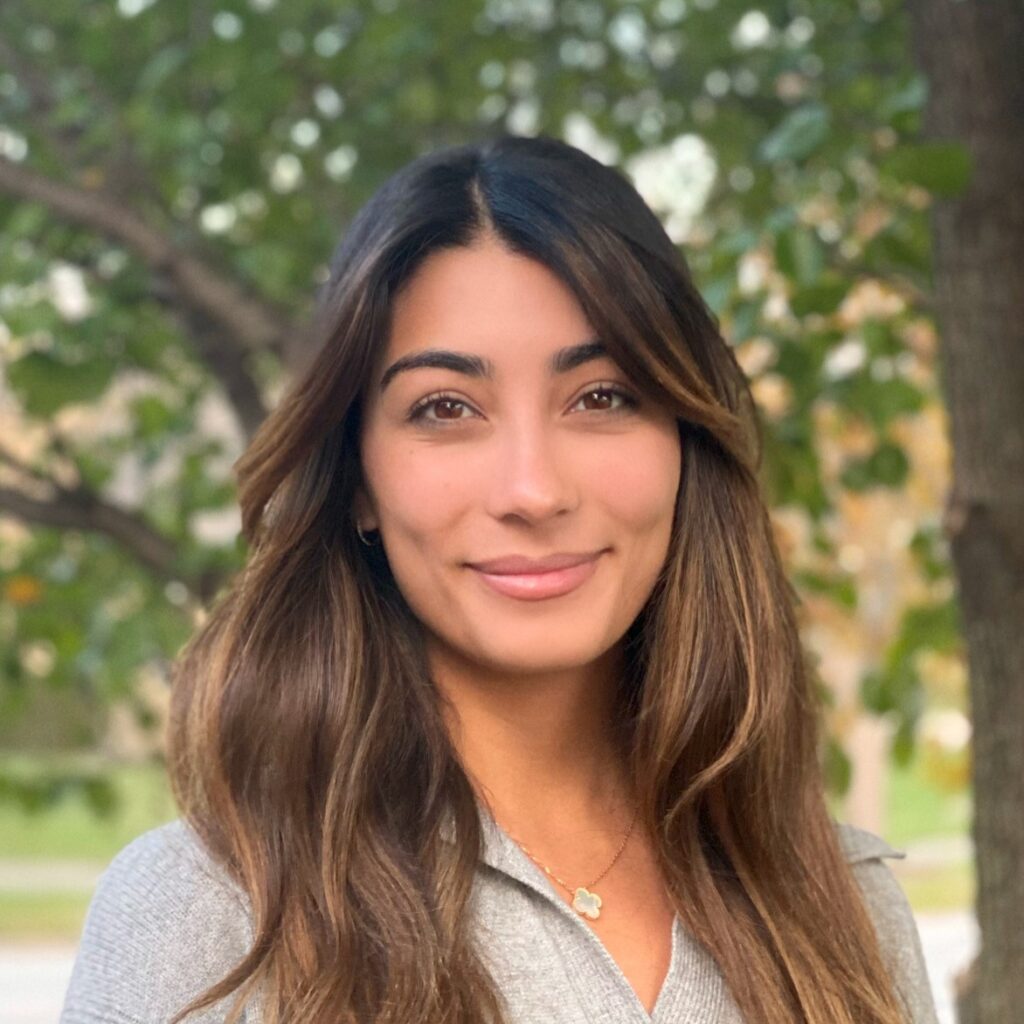 Farah is a psychotherapist at Wildflower. Her clinical interests include depression, anxiety, relationship, couples work, ADHD, OCD, sexual and gender identity exploration, and family dynamics. Farah's approach is grounded in concepts from attachment theory, person-centered theory, third wave approaches, and relational-cultural theory. Farah earned her Master's degree in clinical social work from the University of Chicago Crown Family School of Social Work, Policy and Practice and her Bachelor's degree in psychology from Marquette University. She offers psychotherapy in both English and Spanish. Read Farah's full bio here.
What inspired you to pursue a career as a psychotherapist?
I was always the sensitive child, inexplicably comfortable with vulnerability. This meant I was highly attuned to the emotions and moods of those around me, making me empathic to a fault. I fell into this role innately. When I was 15, my own therapist urged me to consider psychotherapy as a profession. To this day, it is the biggest compliment I have ever received. Being a therapist provides me with the space and freedom to be keenly and unapologetically my authentic self. It is a profession that moves me, challenges me, and allows me to engage in active learning every day.
As a psychotherapist, what part of your job is most satisfying?
The value of sitting in a room with another human who is trusting me with the most intimate parts of their lives is something I do not take for granted. I am invited into my clients' lives every day and I am fortunate to be welcomed.
How would you describe your therapeutic approach?
My therapeutic style is warm and gentle. I emphasize the therapeutic relationship above all else. I love to incorporate humor (when appropriate) and make my clients feel comfortable, seen, and heard. My approach is eclectic, borrowing from different modalities to offer my clients both the space to explore and process as well as tangible learning to take with to their daily lives. My modalities of choice include a combination of Acceptance and Commitment Therapy, Attachment Theory, Psychodynamic, Somatic Psychotherapy and Person-Centered therapy. In sessions, I encourage my clients to be the experts of their own narratives. Together we explore your values, strengths, and vulnerabilities. I facilitate an exploration of what a rich and meaningful life looks like for you.
Why do you believe that psychotherapy can help?
Engaging in therapy helps you be accountable, self-aware, and engaged in actively creating a meaningful life. Therapy is a safe space to simply be — who would not benefit from one hour per week to be heard nonjudgmentally? As a therapist, my job is to honor your narrative, offer perspective, and guide you toward creating the life that you envision.
What are some of your specialties and what drew you to them?
I am drawn to working with both individuals and couples around anxiety, depression, relationships (interpersonal, familial & romantic), adjusting to changes and life transitions, gender expression, sexuality, experiences of shame/guilt, self-worth and confidence difficulties.
What is one thing about psychotherapy you wish everyone knew?
Psychotherapy is flexible. It is anything you want and need it to be. It is a space for you to reclaim your voice and I am here to be your advocate.
What is your motto or personal mantra?
A dear client of mine shared the following mantra with me, which to this day remains written on a post-it note above my desk. It reads: "Make the choices that will help you feel better today". This mantra allows the freedom to be grounded in the present moment. Tomorrow is a new day, I can't change yesterday, but today I can make choices and that is liberating.
What are your favorite self-care activities?
A slow morning, iced matcha tea, a stroll through the city with Rufus (my pup), Facetime with my mom, a sweet treat, a warm bath, a good read, a new season of my favorite TV show, a spontaneous day, spending time with the people I love.