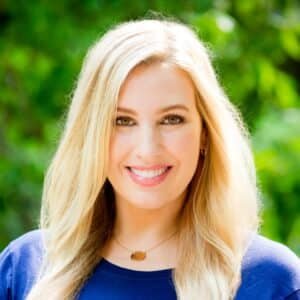 Jennifer is an advanced clinical social work intern at Wildflower and is passionate about creating a therapy space that is welcoming, safe, and effective. Her clinical areas of focus include depression, anxiety, sexual functioning, gender identity, communication, grief, trauma, and self-esteem. Jennifer is currently pursuing a Master's degree in clinical social work at the University of Chicago Crown Family School of Social Work, Policy, and Practice. She earned a dual Bachelor's degree in history and gender studies at the University of Southern California. She received her law degree from Southwestern Law School. You can read Jennifer's full bio here.
What inspired you to pursue a career as a psychotherapist?
I have always been drawn to lending my ear to people who need it. It is in my nature to be both emotionally attuned and a strong advocate for people. I found so much fulfillment volunteering with youth in the foster and probation systems, serving as a companion to hospice patients, and counseling adolescents and adults in crisis that I decided to pursue the career change to psychotherapist to continue to support people focused on change and growth.
As a psychotherapist, what part of your job is most satisfying?
It is hard to put words to how satisfying it is to see a client take steps to live for themselves, instead of how others believe they should live or in accordance with the unfair societal expectations placed upon them. I am inspired by my clients' authenticity, strength, and resilience every day. As the renowned therapist and author Irvin D. Yalom writes: "Let your patients matter to you, let them enter your mind, influence you, change you…"
How would you describe your therapeutic approach?
My approach is warm, inclusive, and varies for every client. I believe we are all unique and complex beings, such that there is no one approach that works for all. I strive to establish trust and safety within the therapeutic relationship so that I can do my best to understand each client's life experience and identify what approach will work best to help them meet their goals.
Why do you believe that psychotherapy can help?
Through psychotherapy, we can gain a deeper understanding of who we are and what experiences from the past, what buried desires, and what fears may have us acting how we are today. This provides an opportunity to create different and more authentic and fulfilling ways of living.
What are some of your specialties and what drew you to them?
I have experience counseling survivors of sexual assault, complex trauma, and PTSD. One of my passions is working with people who fall outside of the societally accepted norm by birth, choice, or biology – including but not limited to their body, gender identity, sexual orientation, disability, race, ethnic background, kink, or relationship structure. Individuals in marginalized groups are much more likely to suffer mental health issues due to discrimination and other mistreatment they experience in our society. They deserve support.
What is one thing about psychotherapy you wish everyone knew?
There are so many misconceptions and myths about therapy that I would like to see dispelled. I wish everyone knew that seeking therapy does not make you weak or broken. It takes great strength to be willing to be vulnerable in the presence of another human being. When you are experiencing one of the great many difficulties life can bring, therapy is a place to go for healing, but therapy is also for gaining insight into yourself and your behaviors. Some of the strongest, most interesting, and brilliant people I know go to therapy.
What is your motto or personal mantra?
"For better or worse, this is temporary." When I am experiencing something particularly painful, I find it helpful to remind myself that how I am feeling in this current moment is temporary. Few things in life are promised, but one thing we know is that feelings change, and how we feel right now is not how we will always feel. When life feels joyful, I try to remember that feeling is also temporary, and it gives me a greater appreciation for that moment.
What are your favorite self-care activities?
After a busy week, I love spending a weekend evening at home to focus on rest and rejuvenation. My ideal self-care evening involves calming music, gentle movement, candlelight, cooking a favorite comforting recipe, and a good night's sleep on fresh sheets.