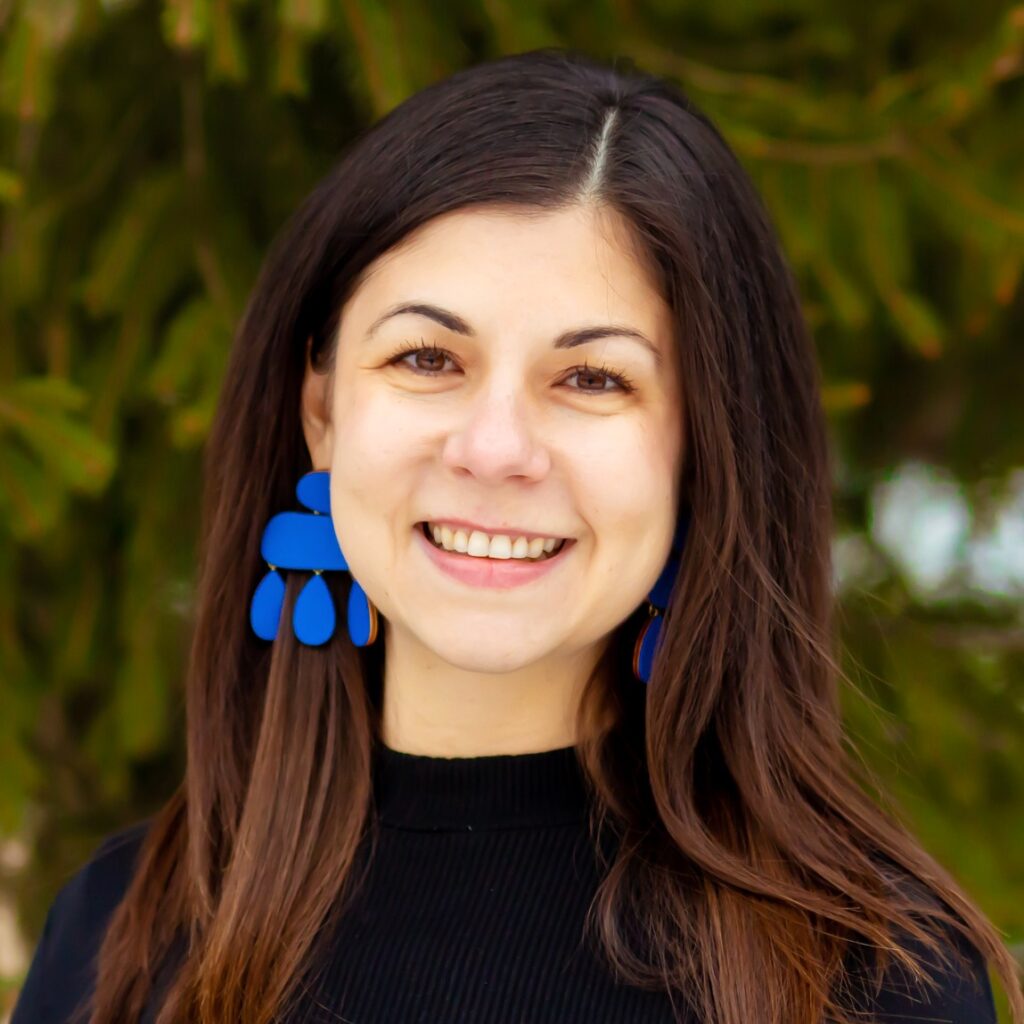 Jessica is a psychotherapist at Wildflower. She grounds her clinical approach in evidence-based modalities such as Acceptance and Commitment Therapy and Cognitive Behavioral Therapy and the mind-body connection, incorporating mindfulness, meditation, and breathing exercises as tools for coping and enhanced self-awareness. Jessica earned her Bachelor's degree from the University of Illinois Champaign-Urbana and her Master's degree in Social Service Administration from the University of Chicago. Read Jessica's full bio here. 
What inspired you to pursue a career as a psychotherapist?
Early in life, I gained first-hand experience with caregiving and the medical system. My younger brother has developmental disabilities and epilepsy, and both of my grandmothers lived with my family during their end-of-life stages. My parents always modeled empathy and compassion at home and for as long as I can remember, I wanted to embody those qualities. Because of the influence of these early experiences, I had a strong sense that I wanted to be in a service-oriented profession. I spent time exploring this in different settings and throughout the years I have worked as an ESL teacher, a volunteer coordinator, a hospital social worker, a social impact software trainer, a sexual assault survivor's advocate, and a graduate student advisor. The common thread of wanting to support and empower people led me to get my Master's in social work, where I fused my life experience with clinical and administrative training. I recently found a professional home within the field of psychotherapy and I am grateful for all the experiences that led me here.
As a psychotherapist, what part of your job is most satisfying?
As a psychotherapist, you're in the privileged position to be able to offer your professional knowledge while also gaining rich insight into the human experience. I get a lot of satisfaction out of connecting with people on a one-on-one basis and learning from the diversity of their perspectives. People that pursue therapy are inherently creative, resourceful, and resilient, and there is so much to learn from their stories and the ways in which they're able to grow despite life's challenges.
How would you describe your therapeutic approach?
My approach is warm, thoughtful, and responsive. My goal is to create an affirming, strengths-focused environment while also working collaboratively with clients to challenge the self-concepts and behaviors that have led to distress. I incorporate a variety of evidence-based and mindfulness techniques that are tailored based on the issues at hand and the client's goals, interactive style, and prior experience with therapy.
Why do you believe that psychotherapy can help?
For some, just having an objective and caring person to talk to can be enough to help. Beyond that essential therapeutic alliance, evidence-based modalities can give structure to sessions and increase the benefits for clients. I gravitate the most towards Acceptance and Commitment Therapy (ACT), which helps people embrace their thoughts and experiences and incorporate actions that can lead to sustainable and meaningful change.
What are some of your specialties and what drew you to them?
My specialties are depression, anxiety, trauma, sexual assualt, grief, job stress, and chronic illness. I'm drawn to these areas through a combination of professional exposure, education and training, and lived experiences. I strive to continuously gain training and consultation so that I can deepen my knowledge and treat additional specialized issues, which is one of the reasons I chose to work at a group practice like Wildflower that prioritizes high-quality clinician education.
What is one thing about psychotherapy you wish everyone knew?
Your therapist is unlikely to give their own personal advice or a quick fix to problems. But if all goes well, they will work with you to strengthen your relationship with yourself so you feel buoyed up by your own judgment, motivations, inner resources, and support network.
What is your motto or personal mantra?
A therapist/yoga teacher taught me a mantra commonly used in Kundalini yoga – Sat Nam, which roughly translates from Gurmukhi into English as "I am truth." The simple and reassuring nature of that mantra has stuck with me for over ten years. I like to use it with a breathing exercise to neutralize external factors and tap into what I'm truly thinking and feeling.
What are your favorite self-care activities?
When it comes to day-to-day self-care, things that consistently do the trick for me are exercising, good sleep, music and dancing, reading, just the right amount of coffee, playing with my son, and connecting with family and friends. I also view travel as a self-care tool to get out of my daily routine and reset my outlook. Even having a trip planned can result in a positive mindset shift for me!