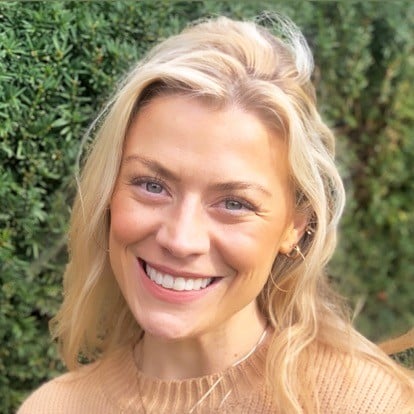 Lolly is a psychotherapist at Wildflower. Lolly's clinical experience spans private practice and inpatient mental health settings. She has received specialized training in, among others, ACT, MBCT, CBT, and ERP. Lolly earned her Bachelor's degree from DePaul University in Communication Studies and her Master's degree from DePaul in Clinical Mental health Counseling. Read Lolly's full bio here.
What inspired you to pursue a career as a psychotherapist?
Oh, it has been a compilation of many things! I'd say one of the biggest reasons was seeing how people (either in my own life, throughout society, in the media, etc.) can get so lost in the silence, and how even just talking through things briefly can be a relief and can help increase understanding of self and others.
As a psychotherapist, what part of your job is most satisfying?
There are truly a lot of things that happen in session that people sometimes don't even notice, and I'll remind them that was some sort of goal, or hurdle to overcome from months back. I love to see the small changes people make and then before they know it, they're achieving big things! The little things matter.
How would you describe your therapeutic approach?
I want to always be very knowledgeable but also be very human; hopefully my imperfections can allow you to feel comfortable to be human too! I'm direct when I need to be, but in a way in which I am advocating for your growth and try to always help you identify your needs.
Why do you believe that psychotherapy can help?
I believe it because I see it all the time! I think people have so much strength and many amazing attributes that sometimes are hard to see for yourself until you start to give yourself the space to through therapy.
What are some of your specialties and what drew you to them?
I really enjoy working with anxiety-related issues, relationship issues (romantic, family and with ourselves) and childhood emotional neglect. All three of these tend to have overlap and doing work in one area can usually help in another!
What is one thing about psychotherapy you wish everyone knew?
That you might have a hard session, it may not feel great all of the time, but it's all part of the process and completely okay.
What is your motto or personal mantra?
It's a long one but worth it:
"To be nobody but yourself in a world which is doing its best, night and day, to make you everybody else – means to fight the hardest battle which any human being can fight; and never stop fighting."
What are your favorite self-care activities?
Running, being with friends, slowing way down when I need to.