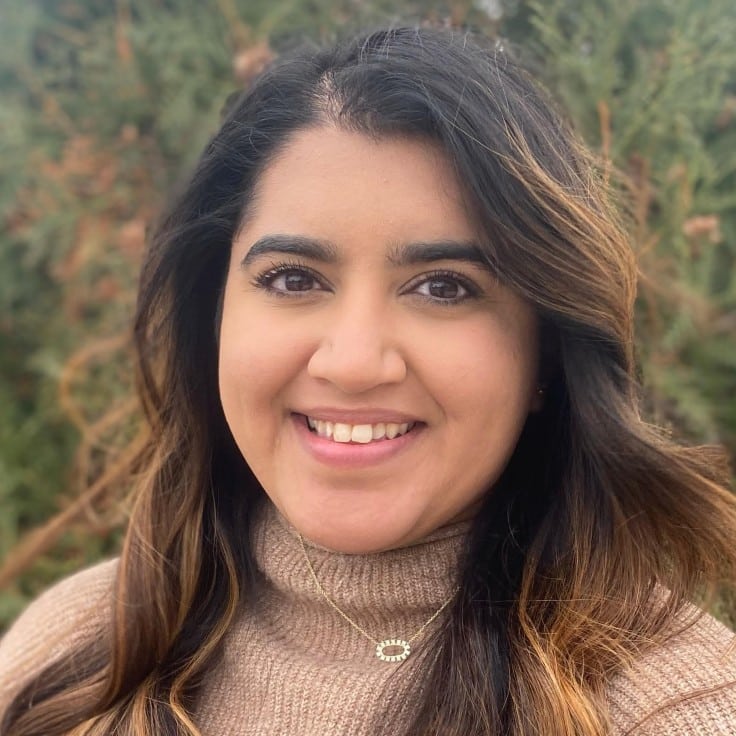 Mahin (she/her) is a psychotherapist and intake coordinator at Wildflower. Mahin believes in the importance of honoring the unique experiences and needs of her clients and tailoring her clinical approach accordingly. Her relational, person-centered stance is combined with evidence-based therapies such as DBT and ACT. Mahin's areas of specialty include anxiety, depression, trauma, life transitions, self-esteem, and grief and loss. In her intake coordinator role, Mahin guides prospective clients through the process of starting psychotherapy and ensures they are matched with clinicians at Wildflower who will best meet their needs. Mahin obtained her Bachelor of Arts degree in Psychology from Roosevelt University and her Master of Science degree in Clinical Mental Health Counseling from University of North Texas. Read Mahin's full bio here.
What inspired you to pursue a career as a psychotherapist?
I have always been a helper, and I knew I wanted to enter into a field that allowed me to do that. I didn't always know that I wanted to become a psychotherapist, but when found this path, I knew it was meant for me. I'm genuinely curious about people, what makes them who they are, and how to provide them with the support that they need. This is also a profession that allows me to continually learn and grow, from my peers, my supervisors, and my clients, which is invaluable to me.
As a psychotherapist, what part of your job is most satisfying?
The most satisfying part of being a psychotherapist is being able to validate client's experiences, and being able to hold space for them to be their authentic selves without judgment. Being able to see a client become more confident in their growth, and providing support and encouragement on the more difficult days is something I'm grateful for.
How would you describe your therapeutic approach?
My therapeutic approach can be described as compassionate and collaborative. I practice through a person-centered lens, and recognize that it's important to meet each client where they're at, because everyone is at a different point in their journey. I strive to create a safe space where clients feel comfortable being vulnerable and open. I have experience with various different treatment modalities, and will utilize them based on each client's individual needs.
Why do you believe that psychotherapy can help?
It can sometimes be difficult for people to find a space where they can be vulnerable and explore their feelings. This is something that psychotherapy provides, an environment where a person can receive psychoeducation, learn coping skills, and process their experiences. Receiving non-judgmental support can be a liberating experience.
What are some of your specialties and what drew you to them?
I specialize in working with individuals and couples around anxiety, depression, eating disorders, relationships, self-compassion/self-worth, trauma, and adjusting to life transitions. I use evidence-based practices including Dialectical Behavioral Therapy, Acceptance and Commitment Therapy, and Exposure and Response Prevention Therapy.
What is one thing about psychotherapy you wish everyone knew?
As a therapist, it's not my place to give advice or tell people what decisions to make for their lives. Each individual is the expert of their own lives, and my role is to provide support during this experience of growth. It can sometimes be a frustrating experience when change isn't happening as quickly as you want but it's important to remember that healing takes time, so being patient with yourself and the process is important.
What is your motto or personal mantra?
The following mantra is one that I repeat to myself everyday: "You yourself, as much as anybody in the entire universe, deserve your love and affection." We are often hardest on ourselves and this mantra reminds me to be gentle and kind with myself.
What are your favorite self-care activities?
My favorite self-care activities are spending time with people that I love, cooking/baking, doing home improvement projects, and watching my favorite movies.