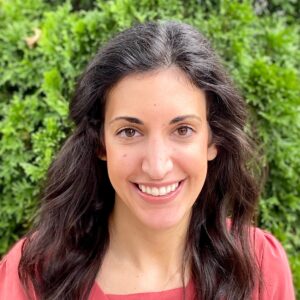 Reyna is a psychotherapist and believes her role as a therapist is to act as a guide in helping individuals work toward living a meaningful life in accordance with their values. Her clinical work focuses on the treatment of anxiety, depression, grief and loss, life transitions, relationship concerns, and women's health issues. Reyna obtained her Bachelor's degree in Psychology from The University of Iowa and completed her Doctorate in Clinical Psychology from The Chicago School of Professional Psychology. Read Reyna's full bio here.
What inspired you to pursue a career as a psychotherapist?
I have always been genuinely curious about understanding human behavior. Additionally, growing up, my family placed strong emphasis on values of helping others and promoting justice. My mother was a college counselor and my father was a lawyer, and they both modeled and taught me the importance of helping others. I initially entered my undergrad as a pre-pharmacy student and quickly realized that it was not the right fit for me. I worked in a research lab where part of my role involved interviewing college students. Through this experience, I realized that I found interacting and connecting with others was much more meaningful to me than engaging in research. I find my work as a therapist incredibly meaningful and I cannot imagine doing anything else.
As a psychotherapist, what part of your job is most satisfying?
Building connection with my clients. I really enjoy listening to peoples' life stories and feel honored to get to know my clients in such a real and vulnerable way. It's incredibly fulfilling to get to be a part of my clients' journeys and not only witness their growth, but grow with them.
How would you describe your therapeutic approach?
I aim to create a therapeutic space that is warm, comfortable, and non-judgmental. I work with people to discover what truly matters to them and help them work toward goals in line with their values. In doing so, I strive to create a safe environment for clients to take risks and explore more helpful ways of relating to painful thoughts and feelings that may have previously kept them feeling stuck or hopeless. It is my goal to support people to become gentler with themselves and others, helping them to feel empowered to build a life they find meaningful regardless of what thoughts or feelings show up.
Why do you believe that psychotherapy can help?
I believe psychotherapy can help for a number of reasons. Therapy can help us learn concrete skills to cope with anxiety and stress as well as ways to relate to painful thoughts and feelings in a more effective way. It can help find solutions and new perspectives to our problems and worries. Therapy also helps us get in contact with what is most important and provides tools to deal with barriers that may be getting in the way. Therapy helps to empower us to live the life we truly want and be the person we want to be.
What are some of your specialties and what drew you to them?
I specialize in the treatment of anxiety, depression, grief and loss, trauma, life transitions, relationship issues, perfectionism and women's health issues. I utilize evidence-based cognitive behavioral approaches including Acceptance and Commitment Therapy (ACT), Dialectical Behavior Therapy (DBT) Exposure and Response Prevention (ERP), and Radically Open-Dialectical Behavior Therapy (RO-DBT). I found that acceptance and mindfulness approaches naturally resonated with me. I apply the same tools I use with clients to myself to connect with my values and live a more fulfilling life.
What is one thing about psychotherapy you wish everyone knew?
I wish everyone knew that progress in psychotherapy is not linear. It is actually more common for individuals to make progress, experience a setback, learn from it, recover, and then make progress again. When a stressor or transition in life occurs, it is normal for us to experience fallback to old patterns, behaviors and ways of thinking. Part of the therapy process is learning how to recognize those "loops" in life and implement strategies to recover and get back on course.
What is your motto or personal mantra?
My personal mantra is the Rumi quote, "These pains you feel are messengers. Listen to them." Just as physical pain is a signal from our body that something needs our attention, emotional pain also tells us that there is something important that we need to pay attention to. Oftentimes, when we start to look at our emotional pain, it shows us what we care about. The things that we value and are most meaningful to us, are also the things that cause us the most pain. Rather than trying to avoid or get rid of our pain, we can use our pain to discover what we value most. In this way, our pain can start to direct us towards the life we truly want.
What are your favorite self-care activities?
Some of my favorite self-care activities are going for walks outside, traveling somewhere warm during Chicago winters, spending time with my family and friends, trying out new restaurants and playing/cuddling with my two cats.