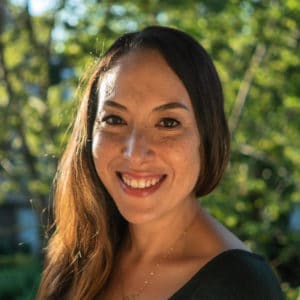 Yumi is a bilingual (Spanish) psychotherapist who works with individuals, couples, and families to provide a warm, safe, non-judgmental and collaborative space. Yumi has extensive clinical experience working with mood and anxiety disorders, identity development, life transitions, self-harm behaviors, minority group stressors, LGBTQIA+ concerns, and daily life stressors. Yumi obtained her Bachelor's degree in Liberal Arts with an emphasis in Psychology from Antioch University-Los Angeles and completed her Doctorate in Clinical Psychology at the California School of Professional Psychology-Sacramento where she received the Specialization/Certificate in LGBT Human Services and Mental Health from the Rockway Institute at Alliant International University. Read Yumi's full bio here.
What inspired you to pursue a career as a psychotherapist?
For as long as I can remember I have been fascinated by people and their backgrounds. One of my favorite things to do growing up was going to the LAX International Terminal and hearing all the different languages spoken around me. My parents are immigrants (Mexican and Japanese) and we often had friends/family come to Los Angeles to visit so being around those with different backgrounds was a norm for me. As I grew older I realized it was easier for me to connect with people by engaging in conversation that tended to be more vulnerable and real, and this continues to be part of how I navigate the world. So I guess going into this field just felt right. It provides me with the opportunity to do what I already loved, which is learning about others, connecting, and providing support.
As a psychotherapist, what part of your job is most satisfying?
I get excited when I get to be part of change that is welcomed and deemed as helpful, and I get really excited when I get to witness new insights occur that help someone understand themselves in a more compassionate way.
How would you describe your therapeutic approach?
I'd like to think that I provide a warm and non-judgmental space that allows people to feel safe, using humor as a means to connect when appropriate. I utilize an integrative approach that pulls from various evidence-based practices, however, I like to spend time hearing people's stories and learning about their backgrounds before deciding where to begin. I view every interaction through a multisystemic and multicultural lens and place a lot of emphasis on family of origin and attachment styles.
Why do you believe that psychotherapy can help?
I think having a safe space to practice vulnerability without fear of judgment can be a powerful experience that can allow us to learn more about ourselves while we practice different ways of engaging in our lives. Being able to learn more about ourselves and why we do the things we do, especially the things that tend to cause suffering, can be incredibly impactful and can result in increased self-compassion and decreased judgment.
What are some of your specialties and what drew you to them?
My areas of specialty are mood and anxiety disorders, identity development, life transitions, self-harm behaviors, minority group stressors, LGBTQIA+ concerns, and daily life stressors. My focus on marginalized and minority groups stems from my passion for social justice, and my love for working with anxiety disorders comes from previous experience of working at a behavioral health hospital which had an amazing OCD/Anxiety partial program. I was able to see different examples of how anxiety disorders are treated, and witnessing the change was incredibly impactful.
What is one thing about psychotherapy you wish everyone knew?
It's not one size fits all and will look different for everyone. Sometimes you'll feel like you had nothing to talk about and sometimes you'll feel like a whole new part of you was revealed and you'll start seeing things differently. It's also not scary!
What is your motto or personal mantra?
Whenever I'm struggling with something or need guidance I like to ask myself whether what I'm doing is helpful or unhelpful and is this causing me pain or suffering. I find myself giving this feedback not only to clients but to friends and family as well.
What are your favorite self-care activities?
I love good coffee, listening to podcasts, singing ALL THE TIME, and laughing frequently.